Main content starts here, tab to start navigating
Menus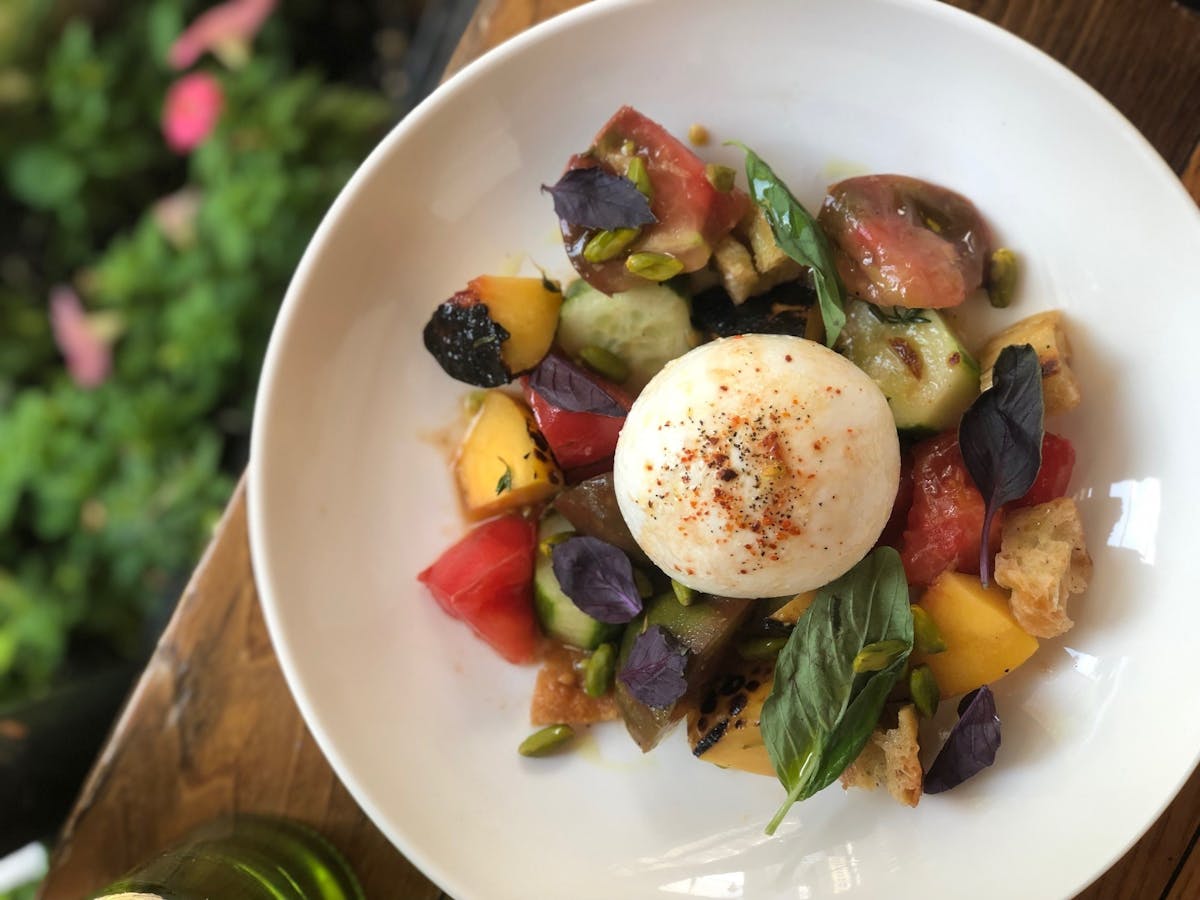 Slide 1 of 4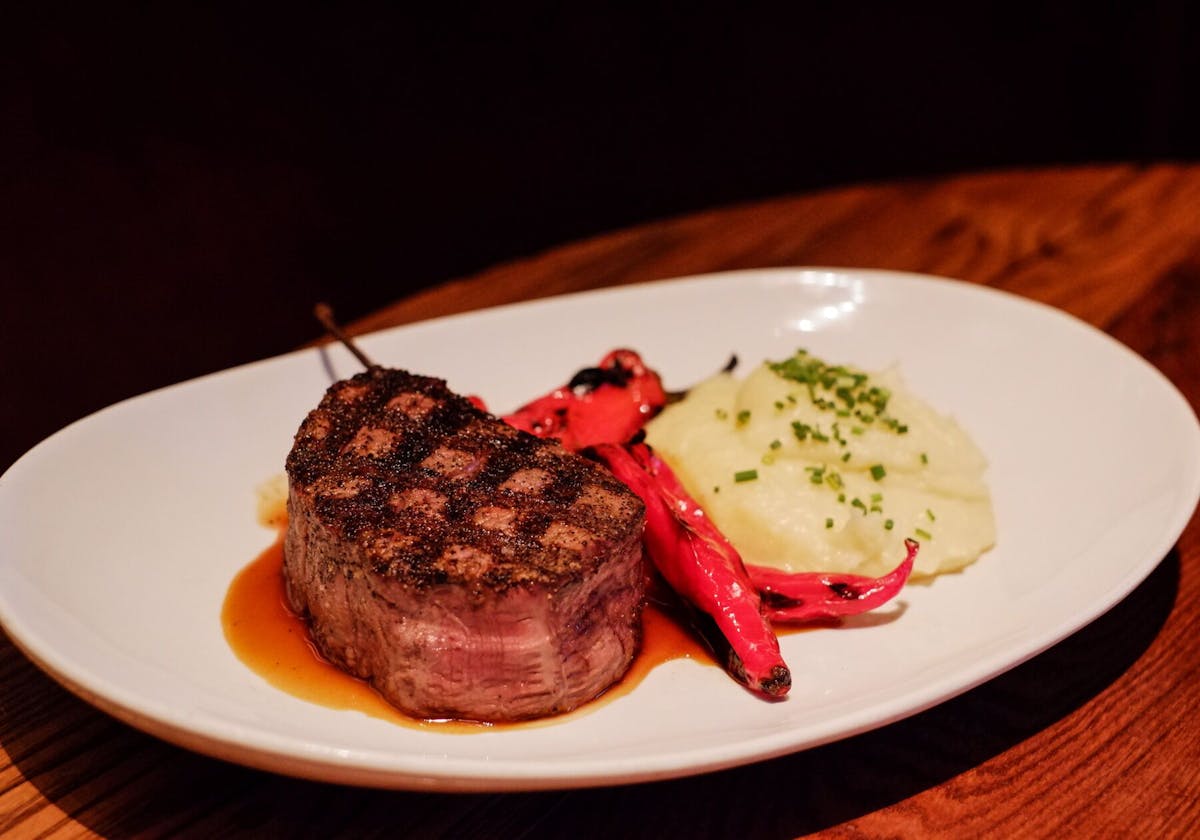 Slide 2 of 4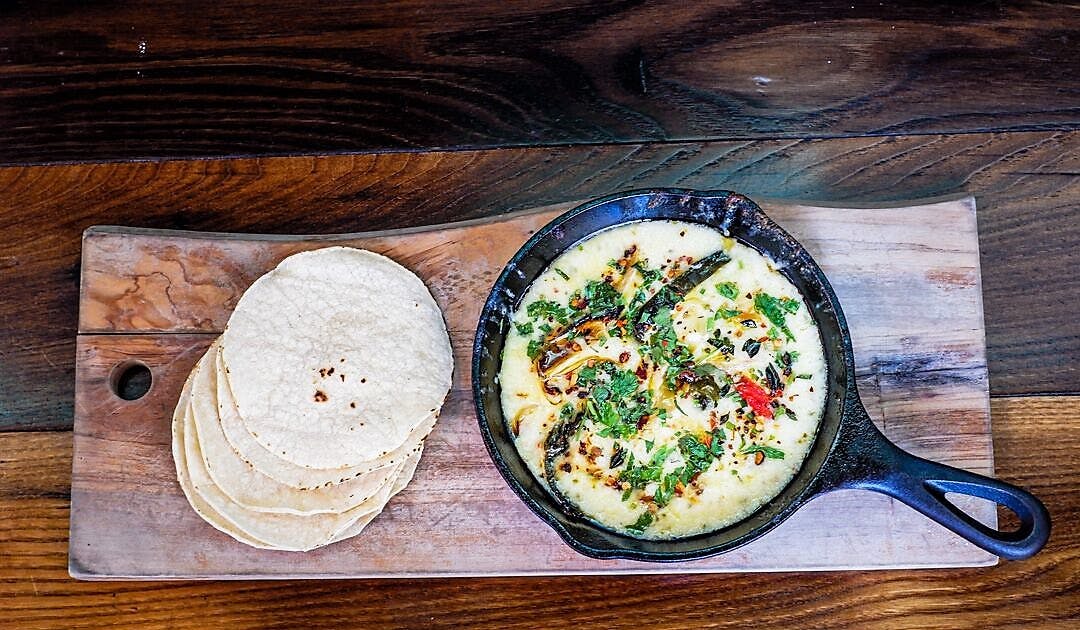 Slide 3 of 4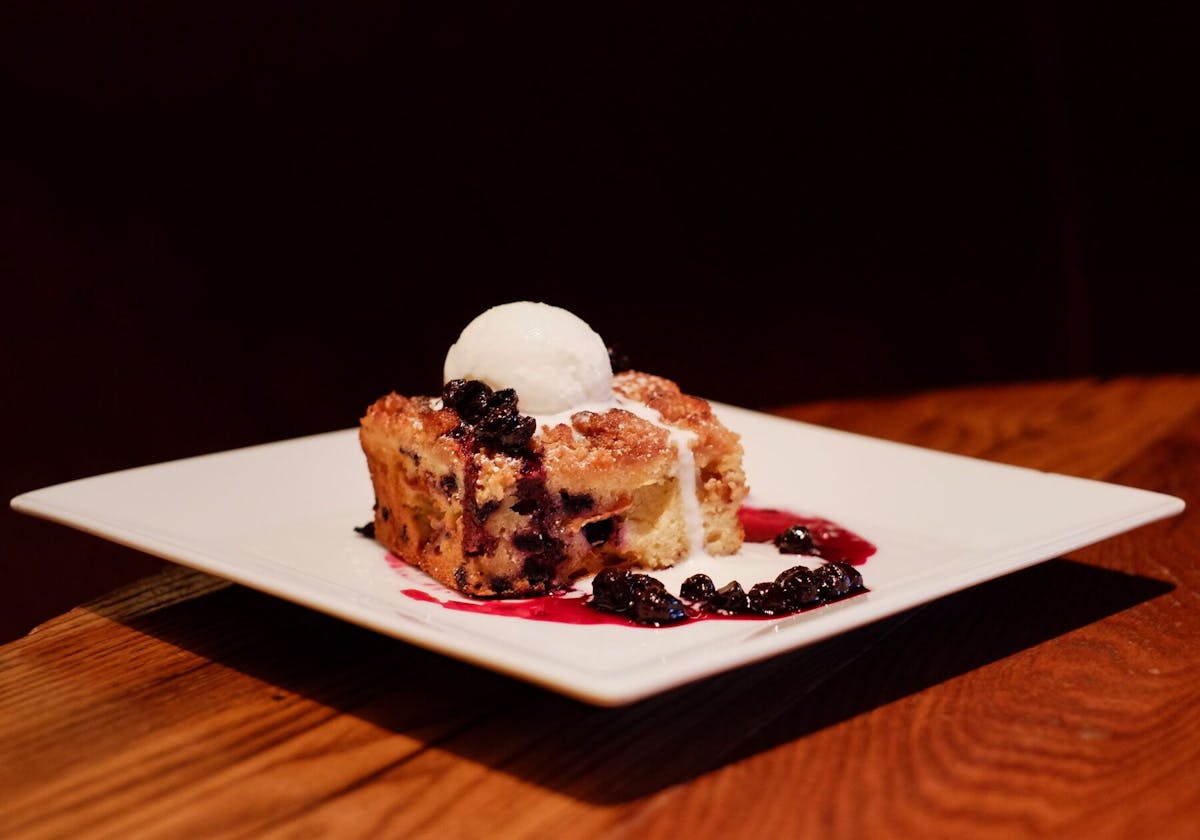 Slide 4 of 4
For the Table
Oysters

/piece $4

1/2 dz $23

dz $39

Salmon Rilletes

smoked & poached salmon, dill, greek yogurt, toasted baguette

$18

Fig & Prosciutto Flatbread Pizza

mozzarella di buffala, prosciutto di parma, figs

$19

Fried Calamari

spiced aioli

$18

Queso Fundido

pepper jack cheese, poblano peppers & warm tortillas

$17

Charcuterie Board

prosciutto di parma, bresaola, pâté en croûte, duck rilletes, chorizo

$31

Selection of Artisanal Cheese - Select 3

Bourbon Bellavitano, Manchego, Four Fat Fowl St. Stephen, Epoisses Berthaut, Parmigiano-Reggiano, Roquefort

$21
To Start
French Onion Soup

melted gruyere

$16

*Tuna Tartare

kataifi & avocado

$24

*Caesar Salad

parmigiano-reggiano

$16

Endive, Walnut & Blue Cheese Salad

fourme d'ambert, granny smith apples & candied walnuts

$18

Rainbow Baby Beets

toasted hazelnuts & citrus honey yogurt

$18

Burrata & Heirloom Tomato Salad

blood orange vinaigrette

$21

Grilled Spanish Octopus

patatas bravas

$24

Market Green Salad

champagne vinaigrette

$14

add blue cheese $17
Mains
Pan Roasted Amish Chicken

garlic whipped potatoes & sweet peas

$31

*Truffle Crusted Salmon

beluga lentils, lardons & red wine fumet

$37

*Grilled Mahi-Mahi

baby carrots & bok choy, snow peas, shiitake mushrooms & ginger soy vinaigrette

$38

Jumbo Lump Crab Cake

leek & vermouth fondue, lobster sauce

$39

Grilled Heritage Pork Chop

housemade spaetzle & stone ground mustard sauce

$38

*The Daily Burger

cheese & ale sauce, bacon-onion jam & handcut fries

$27

Braised Short Ribs

thumbelina carrots, caramelized pearl onions & celery root purée

$39

*Prime New York Strip Steak

yukon gold whipped potatoes

$58

*28 day Dry-Aged Ribeye (16oz)

yukon gold whipped potatoes

$62

*Tomahawk Steak For Two (40 oz)

truffle butter, whipped potatoes, sautéed spinach, crispy onion rings

$170
Pasta
Spinach & Ricotta Ravioli

parmigiano-reggiano & fire roasted tomato sauce

half $19

full $29

Spicy Rigatoni

alla vodka & sweet italian sausage

half $21

full $31

Campanelle

with basil & pine nut pesto

half $18

full $27

with garlic shrimp $24 - $36
On the Side
Hand Cut Fries

$10

Crispy Onion Rings

$10

Yukon Gold Whipped Potatoes

$10

Crispy Brussels Sprouts

apple cider glaze

$13

Five Grain Harvest Rice Pilaf

$10

Pan Seared Spring Vegetables

$13
*Consuming raw or undercooked meats, poultry, seafood, shellfish or eggs may increase your risk of food borne illness
Dessert Cocktails
Mexican Hot Chocolate

tequila, licor 43, shaved chocolate

$17

Symphony No. 375

mozart pumpkin spice liqueur, disaronno, housemade coconut sorbet

$15

Tribeca Espresso Martini

Vodka, Kahlua, Crème de Cacao

$18

Pecan Pie Old Fashioned

pecan-infused bulleit bourbon, oloroso sherry, chicory bitters

$15
Dessert
Tribeca Chocolate Torte

$13

NY Cheesecake

vanilla berry compote

$13

Tahitian Vanilla Crème Brûlée

$13

Market Berries

chantilly cream

$13

Apple Crumb Pie a la mode

housemade vanilla ice cream

$13

Flourless Warm Chocolate Brownie

malted milk chocolate ice cream

$13

Housemade Ice Creams & Sorbets

$13

Selection of Artisanal Cheese - Select 3

Bourbon Bellavitano, Manchego, Four Fat Fowl St. Stephen, Epoisses Berthaut, Parmigiano-Reggiano, Roquefort

$21
The beautiful mahogany bar at the center of the restaurant has a little bit of magic and a whole lot of history. It was first at Jack Dempsey's Bar & Restaurant, at the Brill Building in the heart of Tin Pan Alley, where many great songs were composed. Next stop was the famed Maxwell's Plum Restaurant, a popular and flamboyant Upper East Side destination. Upon becoming the centerpiece of Tribeca Grill, it's a place for guests from all over the world to enjoy wonderful ambiance, food and drink.
Download PDF
*OYSTERS

1/2 dz $23

dz $39

pc $4

FIG & PROSCIUTTO FLATBREAD PIZZA

mozzarella di buffala, prosciutto di parma, figs

$18

SALMON RILLETTES

smoked & poached salmon, dill, greek yogurt, grilled baguette

$18

CHARCUTERIE

prosciutto, bresaola, pâté en croûte, chicken liver mousse, chorizo

$31

PULLED PORK SLIDERS

kansas style barbeque sauce

$18

BLACKENED SWORDFISH TACOS

chipotle aioli, pickled onions

$24

FRIED CALAMARI

spiced aoili

$18

BUFFALO CHICKEN WONTONS

$17

TRUFFLE FRIES

truffle oil, parmigiano-reggiano

$15

*SELECTION OF ARTISANAL CHEESES - Select 3

served with toasted raisin pecan bread, candied walnuts, & fig preserves | Bourbon Bellavitano, Manchego, Four Fat Fowl St. Stephen, Epoisses Berthaut, Parmigiano-Reggiano, Roquefort

$21
Easter Sunday April 9th, 2023
11:00am-4:00pm
Celebrate Easter at Robert De Niro & Drew Nieporent's landmark downtown restaurant.
Chef Stephane Motir has created a special 3 course prix fixe menu for $68.
(not including beverages, tax or gratuity)
Kids under 10 - 2 course prix fixe for $29
Download PDF
APPETIZERS
Burrata & Heirloom Tomato Salad

Blood Orange Vinaigrette

Grilled Asparagus

Mousseline Sauce

Caesar Salad*

Parmigiano-Reggiano & Foccacia Croutons

Market Green Salad

Cherry Tomatoes & Fresh Herbs, Champagne Vinaigrette

Honey Yogurt Parfait

Granola & Market Berries

Grilled Octopus

Patatas Bravas

Supplement $7
EXTRAS
TO START
*Oysters

1/2 Dozen $23

Dozen $39

Charcuterie Board

Proscuitto di parma, bresaola, pate en croute, duck rillettes, chorizo

$31

Flatbread Pizza

Fig & Proscuitto

$19
On the Side
Applewood Smoked Bacon

$10

Yukon Gold Whipped Potatoes

$10

Crispy Brussels Sprouts

apple cider glaze

$13
Executive Chef, Stephane Motir
*Consuming raw or undercooked meats, poultry, seafood, shellfish or eggs may increase your risk of foodborne illness
Mains
Country Ham & Gruyere Omelette

House Roasted Potatoes

Brioche French Toast

Vanilla Berry Compote

Steak & Eggs*

8oz Grilled Ribeye, Eggs Sunnyside & House Roasted Potatoes

Spinach & Cheese Ravioli

fire roasted tomato sauce

Pan Roasted Amish Chicken*

Yukon Gold Whipped Potatoes & Spring Peas

Grilled Atlantic Salmon*

Israeli Cous Cous & Spring Vegetables

Jumbo Lump Crabcake

Roasted Corn, Grilled Pineapple & Mango Salsa

Supplement $7

Roast Leg of Lamb

spring pea puree & mint oil

Supplement $10
Desserts
Tahitian Vanilla Crème Brûlée

Tribeca Chocolate Torte

NY Cheesecake

Vanilla Berry Compote

Stone Fruit & Blueberry Crumble

Vanilla Ice Cream

Market Berries

Chantilly Cream
Kid's Menu
Brioche French Toast with vanilla berry compote

Ham & Cheese Omelette with house roasted potatoes

Chicken Fingers & French Fries

Tribeca Burger & French Fries

Angel Hair Pasta with tomato sauce
Kid's Menu Dessert
Tribeca Chocolate Cake

Vanilla Ice Cream with Hot Fudge
Classic Cocktails
Manhattan

rittenhouse bottled in bond rye, antica carpano, orange bitters, luxardo maraschino

$18

Knob Creek Old Fashioned

knob creek bourbon, angostura bitters, bunny ears

$18

Jungle Bird

cruzan black strap rum, campari, pineapple & lime juice, demerara syrup

$18
Specialty Cocktails
Martinson's Manhattan

espresso-infused elijah craig small batch bourbon, antica carpano, luxardo maraschino, chocolate bitters

$18

Red Cadillac

strawberry-infused goza reposado tequila, orange liqueur, lime

$18

Rosemary's Corpse Reviver

6 o'clock brunel gin, lillet blanc, triple sec, fresh lemon juice & rosemary syrup

$18

The Firefly

catedral de mi padre espadín mezcal, campari, lemon juice, hibiscus syrup, tiki bitters

$17

Franklin Collins

cucumber-infused vodka, elderflower liqueur, lemon juice, agave, seltzer

$18
N/A Beer & Mocktails
Clausthaler

germany, n/a lager

$8

Mint Smash

cranberry & orange juices, ginger beer

$7

Raspberry Fizz

muddled raspberries, peach nectar, fresh lemon juice

$7
Dessert Cocktail
Mexican Hot Chocolate

tequila, licor 43, shaved chocolate

$17

Tribeca Espresso Martini

vodka, kahlua, crème de cacao

$18

Symphony No. 375

mozart pumpkin spice liqueur, disaronno, housemade coconut sorbet

$15

Pecan Pie Old Fashioned

pecan-infused bulleit bourbon, oloroso sherry, chicory bitters

$15
Beer
Corona Light

mexico, lager

$10

Stella Artois

belgium, pilsner

$10

Corona Extra

mexico, lager

$10

Leinenkugel's | Toasted Bock

wisconsin, dark lager

$10

Montauk | Cold Day

new york, american IPA

$10

Torch & Crown | Almost Famous IPA

new york, new england IPA (16 oz)

$14

EBBS | IPA No. 7

new york, india pale ale (16 oz)

$14

Guinness

ireland, dry stout (16 oz)

$12
On Tap
Catskill Brewery | Ball Lightning

new york, pilsner

$11

Founders | All Day IPA

michigan, session IPA

$11
White
Sauvignon Blanc

sandy cove, marlborough, nz 2022

$15

Gruner Veltliner

buchegger 'holzgasse,' niederösterreich, austria 2020

$14

Pinot Grigio

santi, 'sortesele', valaldige, italy 2020

$14

Chardonnay

bacchus, california 2021

$14

Chardonnay

presqu'ile, santa barbara, california 2020

$17
Sparkling
Schramsberg

'mirabelle,' california, nv

$21

Robert Moncuit

'les grands blancs,' blanc de blancs, extra brut, nv

$29

Pierre Sparr (Rosé)

crémant d´alsace, france, nv

$18
Rosé
Grenache Blend

château maupague, 'sainte-victoire,' provence 2020

$18
Red
Pinot Noir

jeanne marie, california 2020

$15

Sangiovese

castello di volpaia, chianti classico 2019

$17

Grenache/Syrah

chave selection, 'mon coeur', côtes du rhône 2019

$17

Cabernet Sauvignon

jeanne marie, california 2020

$14

Cabernet Sauvignon

routestock, napa valley, california 2020

$17

Malbec

durigutti, mendoza, argentina 2019

$14
Premium Wines By the Glass
We are thrilled to present this dynamic list of premium tasting sized pours. The wines are selected on a rotating basis in order to provide you the opportunity to experience the breadth our cellar without the need to open an entire bottle. We hope you take advantage of this uncommon opportunity.
White
Riesling

gunderloch, 'nackenheimer rothenberg,' auslese,*** rheinhessen, germany 2004

2oz $19

4oz $35

Chardonnay

ramonet, chassagne-montrachet 1er cru, `boudriotte,´ burgundy, france 2014

2oz $28

4oz $54

Chardonnay

marcassin, `marcassin estate,´ sonoma coast, california, usa 2013

2oz $33

4oz $66

Marsanne / Roussanne

jean-louis chave, hermitage blanc, rhône, france 2010

2oz $38

4oz $74
Red
Pinot Noir

g. roumier, chambolle-musigny, burgundy, france 2017

2oz $24

4oz $46

Grenache

janasse, châteauneuf du pape, 'vieilles vignes,' rhône, france 2004

2oz $22

4oz $42

Nebbiolo

bruno giacosa, barbaresco `asili,´ piemonte, italy 2001

2oz $33

4oz $64

Syrah

sine qua non, `b-20,´southern california, usa 2008

2oz $48

4oz $93

Carbernet Sauvignon

colgin, `cariad,´ napa valley, california, usa 2003

2oz $51

4oz $99
Kids Menu
Greens, Greens, Greens (Salad)

lemon juice & extra virgin olive oil

$8

Spaghetti

tomato sauce OR butter & cheese

$9

Chicken Fingers & Fries

$9

Tribeca Burger & Fries

$10

cheese & bacon $12

Grilled Cheese & Fries

$9

tomato & bacon $11
SPEYSIDE
Balvenie Doublewood 12

$22

Balvenie Portwood 21

$77

Craigellachie 13

$18

Craigellachie 23

$75

Glenfiddich 12

$22

Glenfiddich 15 Solera Reserve

$29

Glenfiddich 18

$34

Glenlivet 12

$22

Glenrothes Select Reserve

$34

Macallan 12 Sherry Oak

$26

Macallan 18

$98

Macallan Rare Cask 2022

$88
HIGHLANDS
Chapter Seven 19

$46

Dalmore 12

$33

Dalmore Cigar Malt

$48

Dalmore Porter

$30

Deanston 20

$46

Highland Park 12

$19

Oban 14

$25
ISLAY
Ardbeg 10

$29

Bunnahabhain 12

$24

Lagavulin 16

$34

Laphroaig 10

$27

Laphroaig 25

$95
AMERICAN WHISKEY
Blackened

$16

Five Trail

$19

Hamilton Distiller's Del Bac

$20

Jack Daniel's

$16

Michter's US*1 Sour Mash Toasted

$44

Two James Smoking Gun

$16

Uncle Nearest

$18
BOURBON
Angel's Envy

$21

Barrel Craft Batch #5

$22

Basil Hayden's

$19

Buffalo Trace

$18

Bulleit

$15

Eagle Rare 10yr Single Barrel

$21

Elijah Craig Small Batch

$15

Hillhaven Lodge

$19

Jim Beam

$13

Jim Beam Black

$15

Knob Creek

$17

Knob Creek 18yr

$64

Old Rip Van Winkle 10yr

$75

Maker's 46

$16

Maker's Cask Strength

$16

Maker's Mark

$16

Redemption 9 Barrel Proof

$25

Widow Jane

$23

W.L. Weller Special Reserve

$26

Woodford Reserve

$19
GIN
Beefeater

$13

Bombay Sapphire

$14

Diep9 Genever

$14

Hendricks

$15

Monkey 47

$19

Ore 118 Raw Vegan

$13

Greenhook Old Tom

$17

Perry Tot's Navy Strength

$14

Plymouth

$15

Sipsmith London Dry

$19

Tanqueray

$15

Tanqueray 10

$17

6 O'Clock Brunel

$17
RUM
Appleton Estate Rare Blend 12yr

$15

Appleton Estate Signature Blend

$14

Bacardi Gold

$13

Captain Morgan

$13

Cruzan Black Strap

$12

Diplomatico Blanco

$13

Don Papa

$13

Don Q Añejo

$15

El Dorado 3

$12

Hamilton Rum

$15

Malibu

$14

Ron del Barrilito

$14

Scarlet Ibis

$20

Star African

$20

Two James Doctor Bird Rum

$18

La Favorite Rhum Agricole Blanc

$14
APÉRITIF
Aperol

$12

Campari

$13

Chartruese (Green)

$16

Genepy (Alpe Herbetet)

$12

Lillet Blanc

$13

Lillet Rouge

$13

Pernod

$14

Suze

$12
SOJU
Tokki Soju

$12

Mesh & Bone

$9

Mizu Shochu Green Tea

$15
CALVADOS
Busnel VSOP

$18

Lecompte Pays D'Auge 18

$48

Lelouvier Vieux

$23
ARMAGNAC
Darroze Domaine de Pounon 1990

$44

Jean Cave Armagnac 1970

$34

Laberdolive Bas Armagnac 1982

$42
BRANDY & COGNAC
Courvoisier VS

$16

Courvoisier VSOP

$19

Courvoisier XO

$49

Delamain XO

$31

Hennessy VS

$16

Hine Vintage

$39

Il de Re

$25

Jean Fillioux XO Gran Reserve

$47

Marie Framboise

$19

Rémy Martin VSOP

$25

Douce Provence Poire Williams

$15

Vieux Mare Domaine Saint Préfert

$32
BLENDED SCOTCH
Chivas Regal 12

$17

Dewar's White Label

$14

Dewar's 25

$79

Johnnie Walker Black Label

$19

Johnnie Walker Blue Label

$55

Johnnie Walker King George V

$125

Johnnie Walker Red Label

$14

Johnnie Walker White Walker

$20

Monkey Shoulder

$16
JAPANESE WHISKEY
Eigashima Shuzo Akashi Blended

$17

Fukano Distillery Whisky

$21

Mars Shinshu Double Cellars

$42

King Car

$38

Matsui Shuzo Kurayoshi 8

$24

Suntory Toki

$18
IRELAND
Bushmills

$15

Blackbush

$16

Jameson

$16

Kilbeggan

$14

Tullamore Dew

$14

Redbreast 12

$22

Temple Bar 12

$35
RYE
Bulleit

$14

Filibuster

$18

James E. Pepper 1776 Sherry Cask

$15

Knob Creek

$15

Michters

$20

Rittenhouse

$14

Templeton

$14

Two James Catcher's

$17

Whistlepig 10

$31

Woodford Reserve

$19
FRANCE
Armorik Breton Sherry Cask

$21
CANADIAN
Crown Royal

$16

Seagrams VO

$14
NEW YORK WHISKEY
Coppersea Big Angus Green Malt

$32

Coppersea Bonticou Crag Rye

$24

Ironweed (Albany) Malt

$17
TEQUILA
Don Julio Silver

$20

Don Julio Reposado

$22

Don Julio Añejo

$23

Don Julio 1942

$42

Don Fulano Fuerte Blanco

$22

De Nada Reposado

$18

Clase Azul Gold

$72

Casamigos Blanco

$22

Casamigos Reposado

$23

Casamigos Añejo

$24

Herradura Silver

$15

Goza Reposado

$14

Tres Generaciones Reposado

$19

Hornitos Black Barrel

$16

Patron Silver

$18

Patron Reposado

$19

Patron Añejo

$20

Volcan

$17
MEZCAL
Casamigos Joven

$19

Catedral de mi Padre Espadín

$21

Catedral de mi Padre Mexicano

$34

Del Maguey Vida

$14

Dos Hombres Joven

$23

Los Siete Misterios Espadin Cuishe

$26
VODKA
Absolut

$14

Barr Hill

$18

Chopin

$17

Grey Goose

$17

Nikka Vodka

$16

Titos

$15

Brennvin

$13

Ketel One

$16

Stolichnaya

$14
LIQUEUR
Baileys Irish Cream

$14

Bénédictine

$14

Chambord

$14

Chocolate Liquor

$15

Cointreau

$14

Disaronno (Amaretto)

$14

Drambuie

$14

Frangelico

$14

Galliano

$15

Grand Marnier

$16

Grand Marnier Cuvee Centenaire XO

$55

Kahlua

$12

l'Abricot du Roulot

$18

Licor 43

$14

Luxardo Maraschino

$14

Ouzo 12

$13

Paolucci Limoncello

$12

Pimm's

$13
SAMBUCA
Paolucci Black

$13

Romana White

$15
AMARO
Branca Menta

$13

Fernet Branca

$14

Braulio

$16

Montenegro

$16

Nonino

$17

Bigallet China China

$19

St. Agrestis (Brooklyn)

$18
GRAPPA
Cividina

$15

Nonino Il Moscato

$29