Main content starts here, tab to start navigating
Menus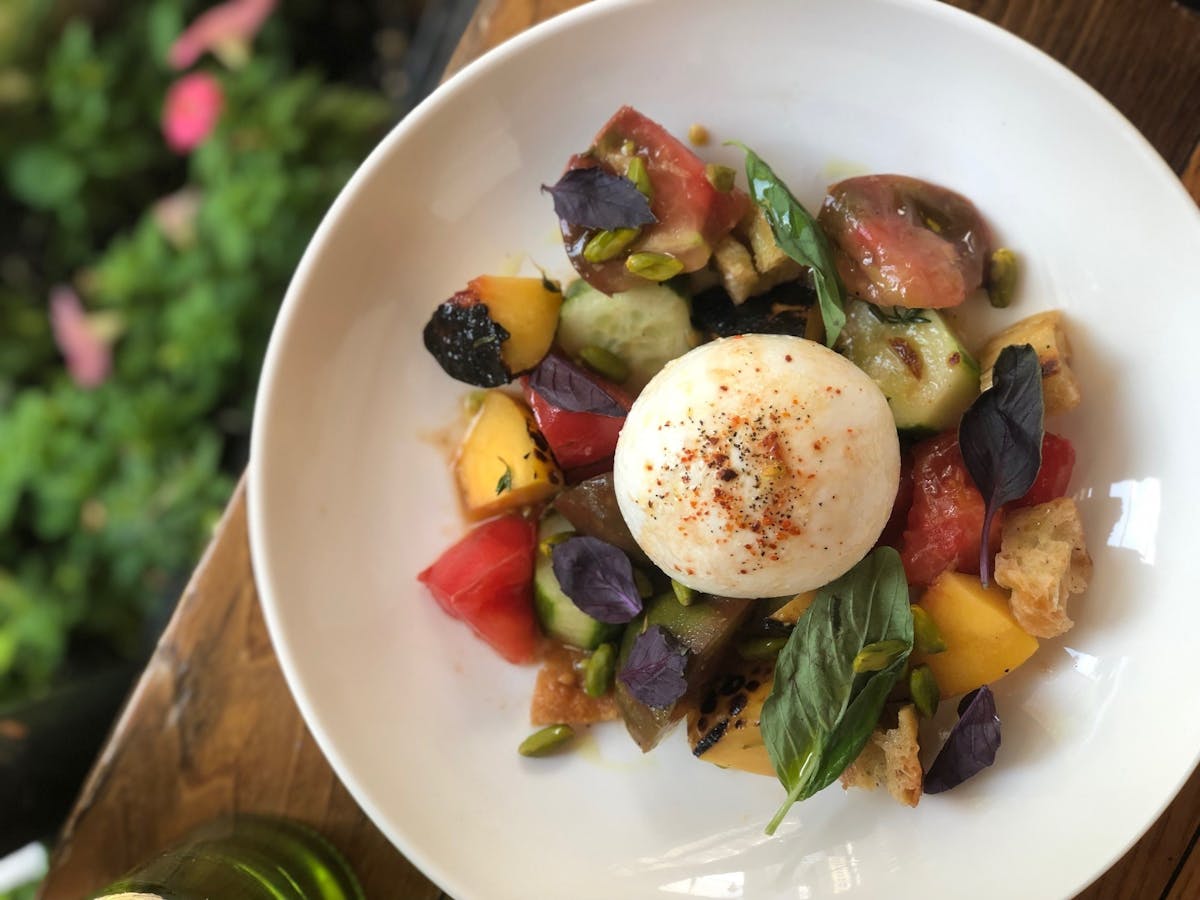 Slide 1 of 4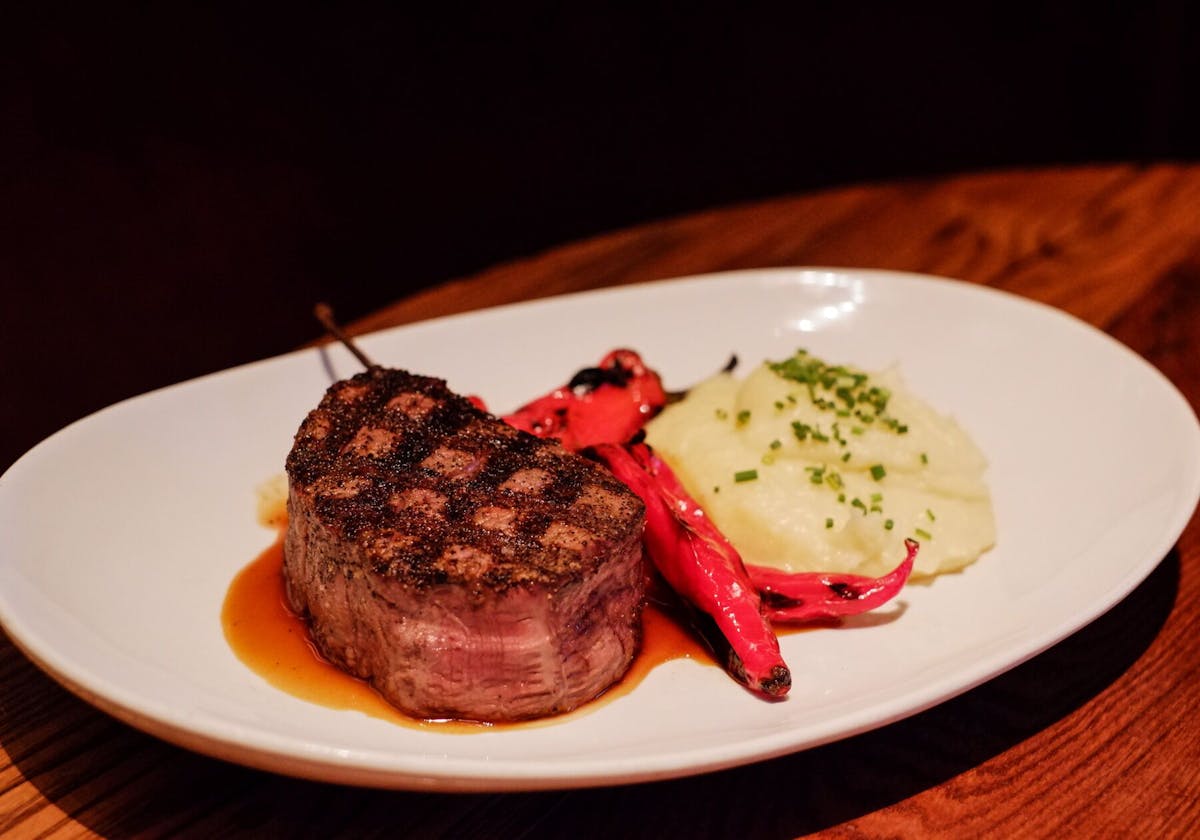 Slide 2 of 4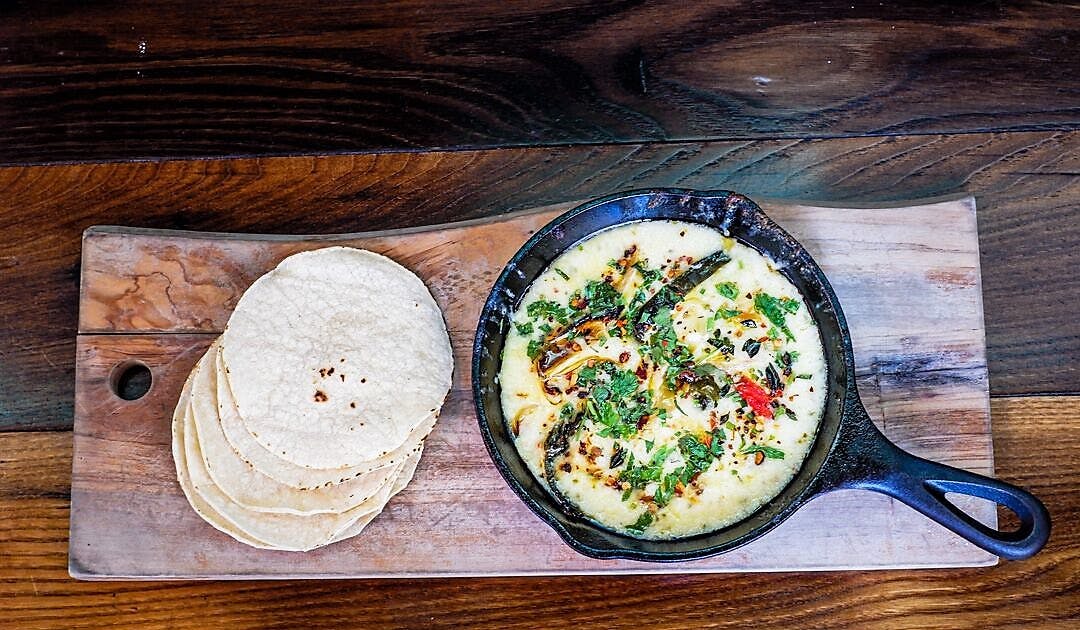 Slide 3 of 4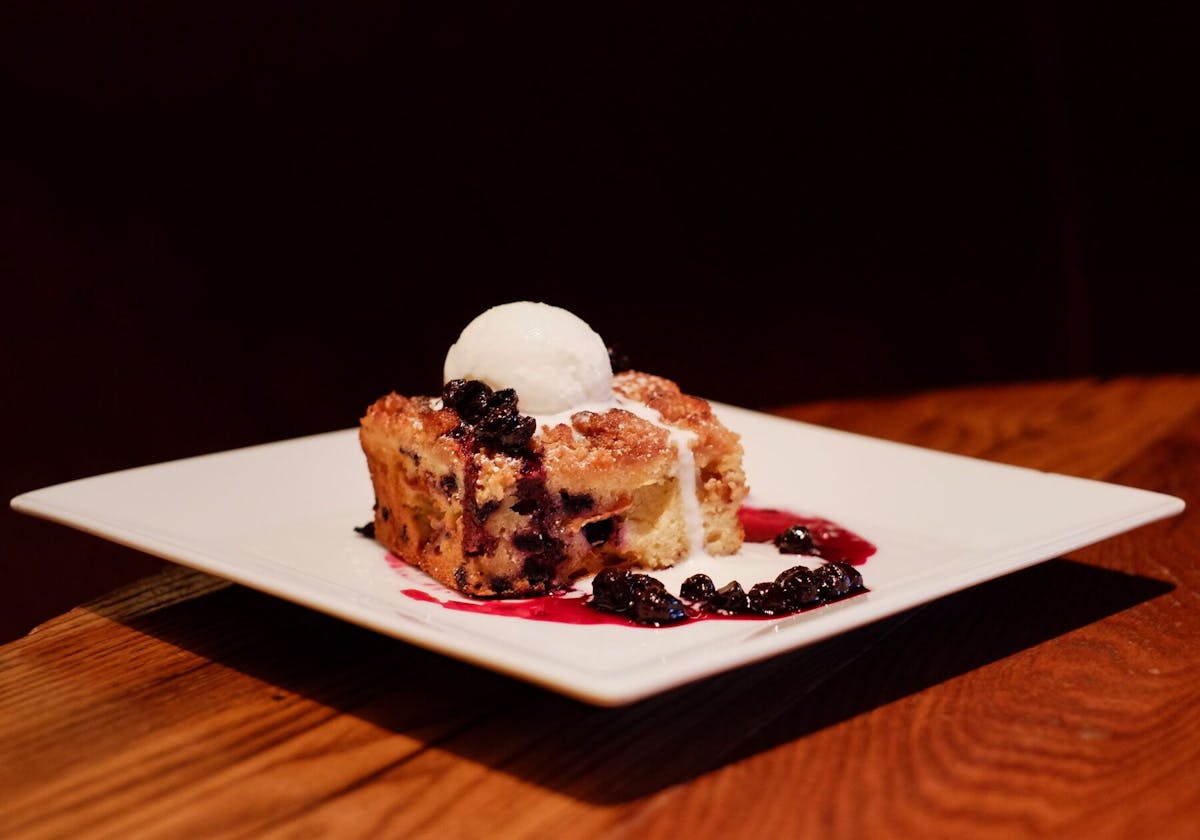 Slide 4 of 4
For the Table
Oysters

/piece $4

1/2 dz $23

dz $39

Salmon Rilletes

smoked & poached salmon, dill, greek yogurt, toasted baguette

$18

Flatbread Pizza

mozzarella di buffala, wild mushrooms & basil pesto

$18

Fried Calamari

spiced aioli

$18

Queso Fundido

pepper jack cheese, poblano peppers & warm tortillas

$17

Charcuterie Board

prosciutto di parma, bresaola, pâté en croûte, duck rilletes, chorizo

$31

Selection of Artisanal Cheese - Select 3

Bourbon Bellavitano, Manchego, Four Fat Fowl St. Stephen, Epoisses Berthaut, Parmigiano-Reggiano, Roquefort

$21
To Start
French Onion Soup

melted gruyere

$16

*Tuna Tartare

kataifi & avocado

$24

*Caesar Salad

parmigiano-reggiano

$16

Endive, Walnut & Blue Cheese Salad

fourme d'ambert, granny smith apples & candied walnuts

$18

Rainbow Baby Beets

toasted hazelnuts & citrus honey yogurt

$18

Burrata & Heirloom Tomato Salad

blood orange vinaigrette

$21

Grilled Octopus

israeli couscous, chickpeas, cerignola olives

$24

Market Green Salad

champagne vinaigrette

$14

add blue cheese $17
Mains
Pan Roasted Amish Chicken

garlic whipped potatoes & sweet peas

$31

*Truffle Crusted Salmon

beluga lentils, lardons & red wine fumet

$37

*Grilled Mahi-Mahi

baby carrots & bok choy, snow peas, shiitake mushrooms & ginger soy vinaigrette

$38

Oven Roasted Halibut

baby spinach, blue hubbard squash, lemon & saffron nage

$42

Jumbo Lump Crab Cake

leek & vermouth fondue, lobster sauce

$39

Grilled Heritage Pork Chop

housemade spaetzle & stone ground mustard sauce

$38

*The Daily Burger

cheese & ale sauce, bacon-onion jam & handcut fries

$27

Braised Short Ribs

thumbelina carrots, caramelized pearl onions & celery root purée

$39

*Prime New York Strip Steak

yukon gold whipped potatoes

$58

*28 day Dry-Aged Ribeye (16oz)

yukon gold whipped potatoes

$62
Pasta
Wild Mushroom Ravioli

parmigiano-reggiano & veal jus

half $19

full $29

Spicy Rigatoni

alla vodka & sweet italian sausage

half $21

full $31

Campanelle

with basil & pine nut pesto

half $18

full $27

with garlic shrimp $24 - $36
On the Side
Hand Cut Fries

$10

Crispy Onion Rings

$10

Yukon Gold Whipped Potatoes

$10

Crispy Brussels Sprouts

apple cider glaze

$13

Creamed Spinach

$12

Sauteed Wild Mushrooms

$15
*Consuming raw or undercooked meats, poultry, seafood, shellfish or eggs may increase your risk of food borne illness
Kids Menu
Greens, Greens, Greens (Salad)

lemon juice & extra virgin olive oil

$8

Spaghetti

tomato sauce OR butter & cheese

$9

Chicken Fingers & Fries

$9

Tribeca Burger & Fries

$10

cheese & bacon $12

Grilled Cheese & Fries

$9

tomato & bacon $11
Dessert Cocktails
Mexican Hot Chocolate

tequila, licor 43, shaved chocolate

$17

Tribeca Espresso Martini

Vodka, Kahlua, Crème de Cacao

$18

Symphony No. 375

mozart pumpkin spice liqueur, disaronno, housemade coconut sorbet

$15
Dessert
Tribeca Chocolate Torte

$13

NY Cheesecake

vanilla berry compote

$13

Tahitian Vanilla Crème Brûlée

$13

Market Berries

chantilly cream

$13

Pecan Pie a la mode

vanilla ice cream

$13

Tribeca Sundae

hot fudge, caramel & brownie bites

$13

Housemade Ice Creams & Sorbets

$13

Selection of Artisanal Cheese - Select 3

Bourbon Bellavitano, Manchego, Four Fat Fowl St. Stephen, Epoisses Berthaut, Parmigiano-Reggiano, Roquefort

$21
Classic Cocktails
Manhattan

rittenhouse bottled in bond rye, antica carpano, orange bitters, luxardo maraschino

$18

Knob Creek Old Fashioned

angostura bitters, bunny ears

$18

Jungle Bird

cruzan black strap rum, campari, pineapple & lime juice, demerara syrup

$18
Specialty Cocktails
Martinson's Manhattan

espresso-infused elijah craig small batch bourbon, antica carpano, luxardo maraschino, chocolate bitters

$18

Red Cadillac

strawberry-infused goza reposado tequila, orange liqueur, lime

$18

Rosemary's Corpse Reviver

6 o'clock brunel gin, lillet blanc, triple sec, fresh lemon juice & rosemary syrup

$18

The Firefly

catedral de mi padre espadín mezcal, campari, lemon juice, hibiscus syrup, tiki bitters

$17

Franklin Collins

cucumber-infused vodka, elderflower liqueur, lemon juice, agave, seltzer

$18
Mocktails
Mint Smash

$7

Raspberry Fizz

$7

Brooklyn Bite

st. agrestis phony negroni, yuzu juice & hibiscus syrup

$12
Dessert Cocktail
Mexican Hot Chocolate

tequila, licor 43, shaved chocolate

$17

Tribeca Espresso Martini

vodka, kahlua, crème de cacao

$18
Beer
Corona Light | Pilsner Style Lager, Mexico

$10

Stella Artois | Pale Lager, Belgium

$10

Corona Extra | Pale Lager, Mexico

$10

Leinenkugel's | Toasted Bock, Wisconsin

$10

Torch & Crown | Almost Famous IPA

(16 oz)

$14

Montauk | Cold Day IPA, New York

$10

EBBS | IPA No. 7, New York

(16 oz)

$14

Guinness | Dry Stout, Ireland

(16 oz)

$12
On Tap
Catskill Brewery | Ball Lightning Pilsner, New York

$11

Founders | All Day IPA, Michigan

$11
White
Gruner Veltliner

buchegger 'holzgasse,' niederösterreich, austria 2020

$14

Pinot Grigio

santi, 'sortesele', valaldige, italy 2020

$14

Sauvignon Blanc

vincent siret-courtaud, quincy, loire, france 2019

$19

Chardonnay

presqu'ile, santa barbara, california 2019

$17

Chardonnay

bacchus, california 2021

$14
Sparkling
Pierre Sparr (Rosé)

crémant d´alsace, france, nv

$18

Robert Moncuit

'les grands blancs,' blanc de blancs, extra brut, nv

$29

Schramsberg

'mirabelle,' california, nv

$21
Rosé
Grenache Blend

château maupague, 'sainte-victoire,' provence 2020

$18
Red
Pinot Noir

jeanne marie, california 2020

$15

Sangiovese

castello di volpaia, chianti classico 2019

$17

Grenache/Syrah

chave selection, 'mon coeur', côtes du rhône 2019

$17

Cabernet Sauvignon

jeanne marie, california 2018

$14

Cabernet Sauvignon

routestock, napa valley, california 2018

$17

Malbec

duriguti, mendoza, argentina 2017

$14
Premium Wines By the Glass
We are thrilled to present this dynamic list of premium tasting sized pours. The wines are selected on a rotating basis in order to provide you the opportunity to experience the breadth our cellar without the need to open an entire bottle. We hope you take advantage of this uncommon opportunity.
White
Riesling

gunderloch, 'nackenheimer rothenberg,' auslese,*** rheinhessen, germany 2004

2oz $19

4oz $35

Chardonnay

ramonet, chassagne-montrachet 1er cru, `boudriotte,´ burgundy, france 2014

2oz $28

4oz $54

Chardonnay

marcassin, `marcassin estate,´ sonoma coast, california, usa 2013

2oz $33

4oz $66

Marsanne / Roussanne

jean-louis chave, hermitage blanc, rhône, france 2010

2oz $38

4oz $74
Red
Pinot Noir

g. roumier, chambolle-musigny, burgundy, france 2017

2oz $24

4oz $46

Grenache

janasse, châteauneuf du pape, 'vieilles vignes,' rhône, france 2004

2oz $22

4oz $42

Nebbiolo

bruno giacosa, barbaresco `asili,´ piemonte, italy 2001

2oz $33

4oz $64

Syrah

sine qua non, `b-20,´southern california, usa 2008

2oz $48

4oz $93

Carbernet Sauvignon

colgin, `cariad,´ napa valley, california, usa 2003

2oz $51

4oz $99
December 31st, 2022
4 Course Prix Fixe Menu
Followed by Dancing to The Big Band!
Lobster & Jumbo Lump Crab Salad
blood orange vinaigrette
***
Butternut Squash Ravioli
shaved winter truffle & brown butter
***
Black Sea Bass
champagne beurre blanc, american osetra caviar
or
Duo of Beef
Cabernet Braised Short Rib & Filet Mignon
celery root puree
***
Chocolate 'Réveillon'
***
Chocolate Mignardises
$175
not including beverage, tax or gratuity
Stéphane Motir, Executive Chef